Whether white terrazzo polishing or another colour the floors look great and very durable. No wonder why, the terrazzo floors are widely popular and used in hotels, airports, office buildings, hospitals.
Terrazzo Polishing
Although the terrazzo floors are really hard wearing and durable there comes a time when the floor are scratched, chipped or stained. They are different type of damages most of them are caused by the traffic. The polishing of the terrazzo is one of our specialty. We train our terrazzo technicians to latest standards in the industry, thus we can provide the results you would expect.
The polish terrazzo floors is done by proper polishing machine. There are some places where you can rent polishing machines. However our advise is to NOT try to do the terrazzo polishing works yourself, as you may damage the floor permanently. Its best to leave the polishing terrazzo works in our professionals hands, as the mistakes can be very costly.
Our approach is very straight forward. If not possible to determine the condition of your floor by picture. We will organize free of charge on site meeting. Then one of our terrazzo floor technicians will check the actual condition of your floor. Quote will be issued on the same day and if approved the works will start shortly after.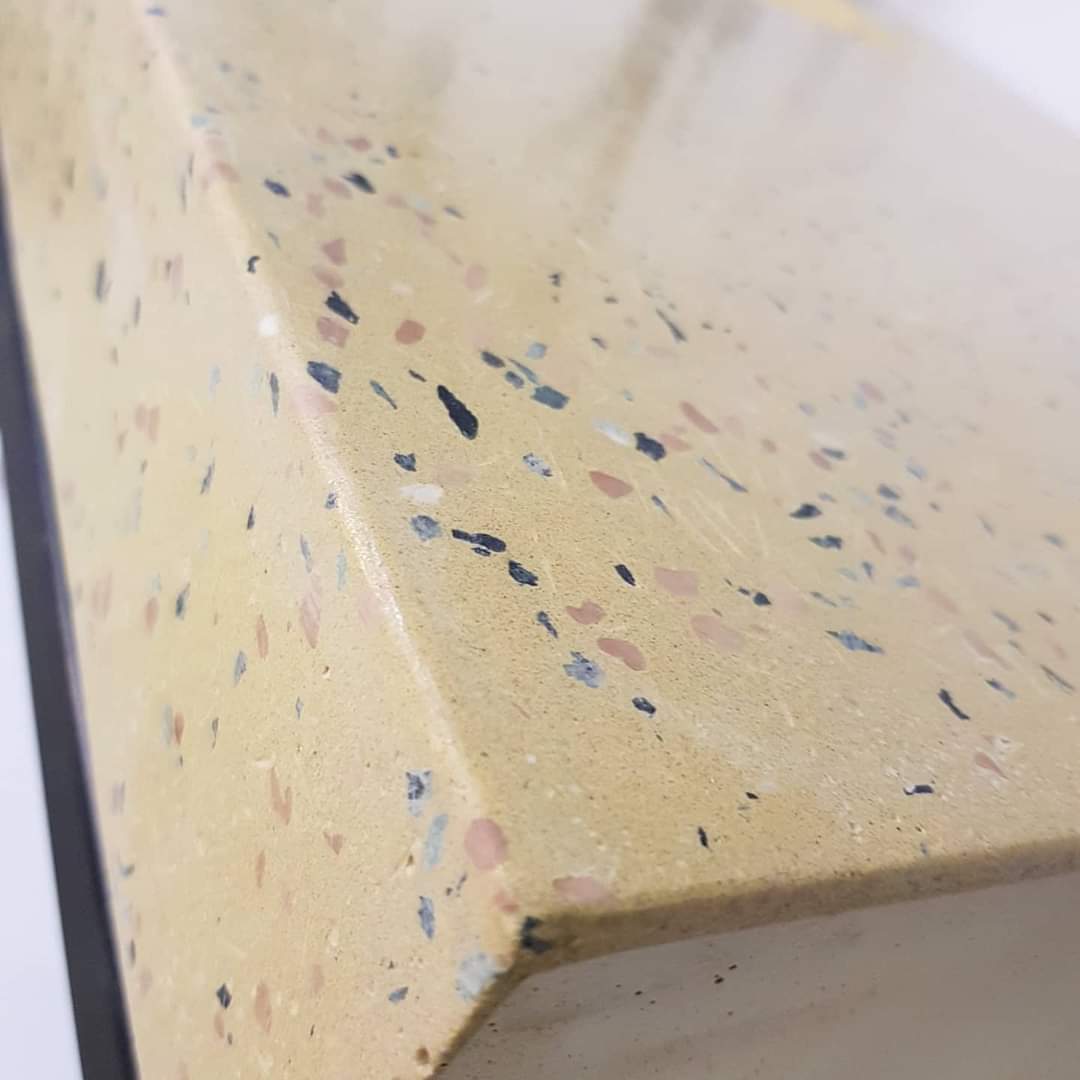 Terrazzo restoration
Unfortunately in some cases the terrazzo flooring is damage to such level where only polishing will not by sufficient. For example if there are very deep scratches or very dull looking areas then terrazzo restoration will be required. The restoration includes terrazzo grinding or terrazzo sanding. The service takes couple mm off the "old" floor and reveals the "new" floor. Again the service is done by special polishing equipment using diamond polishing pads. We use only high end equipment where the dust levels are very small. However our team will make sure to cover the areas again any damages.


Terrazzo maintenance
Important part of the terrazzo care is the terrazzo maintenance. After the floor is cleaned, polishing or restored. You must take proper care of the floor in order to keep it looking as fresh as possible for a longer period of time.
Depending on the usage of the floor the time periods may differ. For example if the floor is located in high traffic area of hotel or airport then the deep terrazzo cleaning period may range from quarterly to yearly. It all depends on the traffic 🙂
Here is our advise regarding the simple terrazzo maintenance:
Do dust the floor daily
Do wash the floor at least twice a week
Do deep clean the floor at least once a week
Do check with professional terrazzo specialist what products are suitable for your floor.
Do NOT use not specified cleaning detergents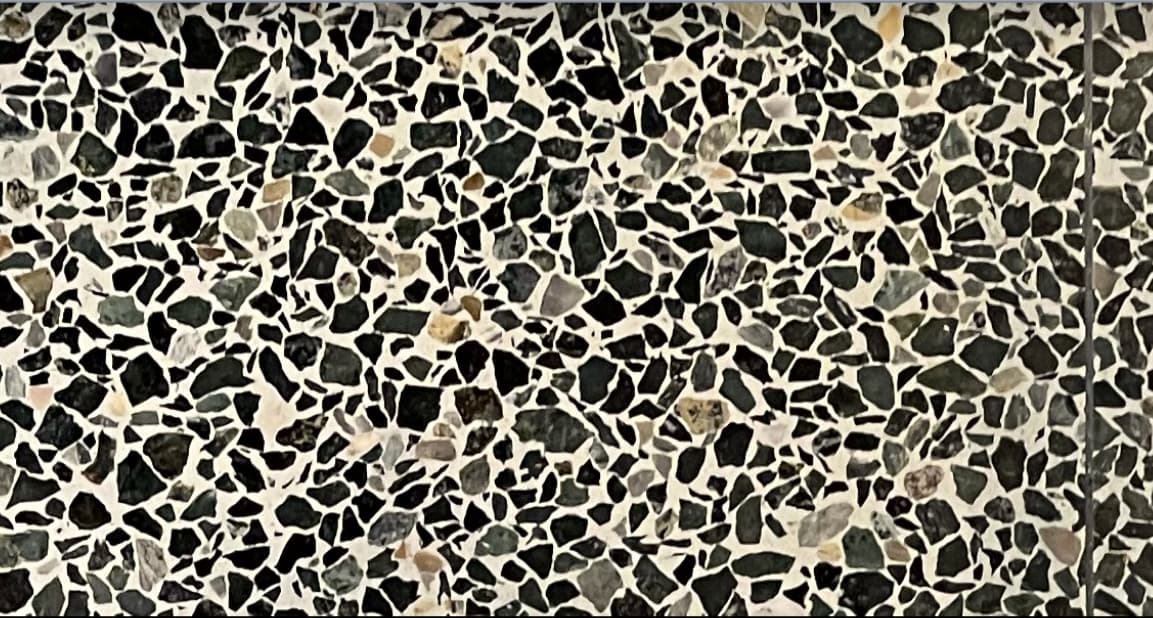 Repairing Terrazzo floors.
We are happy to announce that in addition to our professional terrazzo polishing services we do offer and repairing of terrazzo floors. If your floor has deep scratches, was not maintained on time or has a lot of chips. Then you are in a need of terrazzo repair. Based on the condition of your floor our terrazzo repair specialist will choose the most suitable and effective method for repair. Please inquire within and will provide free quote based on the condition of your floor.
How much does to cost to polish Terrazzo?
The terrazzo polishing cost is based on couple of factors. However the main ones are the size and condition of the floor. We believe that the personal approach for each customer is the best solution. Thus we price each floor individually, as at the end of the day our goal is to provide the best possible service on the best possible price!
We price our floor polish terrazzo works very fair and do our best to fit any project. Thus please contact us and we will be happy to provide free of charge estimate and quote for your terrazzo restoration or cleaning.
Looking for Terrazzo Polishing Services?
We understand that you deserve sparkling clean floor. That's why our floor technicians are trained to their best in order to provide the best possible results.Our polishing services are suitable for all kinds of different floors and surfaces. We understand that the current situation with Covid – 19 is difficult for everyone, thus we try to be as flexible as possible trying to fix any budget.
Contact us today at 02036 705 808, our customer service representatives are available 24/7. They will be happy to provide free quote over the phone or e-mail.
Top frequently asked questions about terrazzo polishing:
Q: How often should I polish my terrazzo floor?
A: That depends mainly on two factors. The first one is whether this is high traffic area or not. And second one is how good is the floor maintained. Our professional suggestion is to use professional terrazzo polishing company once a year.
Q: How much does it cost to polish and restore terrazzo flooring?
A: Depends on the condition of the floor. Please inquire within and we will issue free quote based on the current condition of your floor. However please note that the price range from £20.00 to £80.00 per sq.m.
Q: Is terrazzo hard to maintain?
A: Compared to other types of floor, its a bit harder to maintain terrazzo. However we can provide you with free advise on how to properly take care of your terrazzo.
Q: What is the lifespan of terrazzo floors?
A: The typical terrazzo lifespan range between 40 – 100 year. If maintained correctly easily can last a lifetime.
Q: What is your lead booking time?
B: Usually about a week. Please contact us as soon as you know the best suitable time for you and will try to fit you in our schedule.
Q: Do you offer terrazzo polishing booking on a short notice?
A: We understand that some situations are extreme, thus we are happy to confirm that we do offer terrazzo polishing service on a short notice.