Have a marble floor?
Marble polishing is a must!
Marble is a great choice for flooring material. It is durable and resistant to staining. It's easy to clean and maintain. However over the course of time and usage It loses its shine and some wear and tear appear. Then the time might have come for your annual Marble polishing (also referred to as marble sanding) and marble restoration service. Our marble floor cleaning specially is designed to restore your marble floor back to it's original shape and appearance .


What is marble polishing?

Marble polishing is the best method to remove small dents, damages and normal wear marks from your marble floor. The best polishing tools and machinery are used (mostly not available unless you shop in specialized shops). Our marble cleaning technicians are able to restore the original marble color, texture and tone while also restoring the gleam you chose for your floors. Please note that the floor polishing is rather light type procedure which will not remove any deep scratches. The service is fast and very efficient. We train our floor technicians to the latest standard and methods in our industry, thus we can guarantee customer satisfaction. Our polishing services are perfectly suitable for all your terrazzo polishing or floor sanding needs as well.

What is Marble Grinding?
Unfortunately not all damages can be fixed only with marble polishing. Often in order to restore the looks the floor must be grinded down (or often referred as marble sanding). Sometimes even dragging a piece of heavy furniture across the floor can leave a dent that can't be buffed away. Marble grinding is a simple and effective way to have your floors look like new again, without having to actually install anew. The grinding procedure is much different from the marble polishing. We use state of the art equipment which we use to grind down (remove) the top of the marble floor. And by that we are able to remove any deep floor scratches, discoloration, etc. If you are looking for proper marble floor restoration, then the marble grinding is a must!
Our services are suitable for:
☛ all types of marble (carrarra, calacata, emprerador, etc)
☞ marble vanity tops
☛ pools and bathrooms
☞ marble floor hotel lobbies
Marble restoration and marble repair services in Portsmouth & Guildford
Granite and marble floors are very durable and strong. However this does not mean that they should not be maintained or can not break. They can break after years of use or if they are neglected for a long time. There come the moment for marble restoration and marble re-polish.
How do you know if your marble floor is ready for restoration? These are some signs that your marble floor is in need of restoration:
Even after regular cleaning, the floor is dull and has lost its shine.

Cracked pieces
Noticeable Stone damage

Deep Scratches (which get bigger over time)
In addition to our marble refinish service. Our team can assist you with grout replacement, water rings, grout cleaning and broken chips.
Your floor's condition will determine the procedure for marble repair and restoration. However the basics are somewhat same. We start with the  evaluation of the current condition of your floor. Then we proceed with deep cleaning (to make sure that we see the actual condition and they are no hidden cracks). Next, we grind the floor to expose its natural colour. After the floor damage has been repaired by our skilled floor technicians, we seal the floor with durable sealant. This will ensure that your floor looks new for a long time.
Our professional floor cleaning services offer another advantage: we will take the time to show you how to clean your floors properly and we will also leave special detergents for your floor to use.
What is the cost of marble polishing?
We will do our best to provide you with the most competitive prices for marble polishing. The floor condition is the main determinant of the price for marble polish. If your floor is in good condition, a simple floor polish will suffice. Our approach is straight forward and hassle free. We send a floor technician to assess the condition of your floors. After we have assessed the condition, we will provide a quote. We will begin the work on a short basis if you accept the quotation.
Thus please contact us directly and we will create custom quote for your particular floor 🙂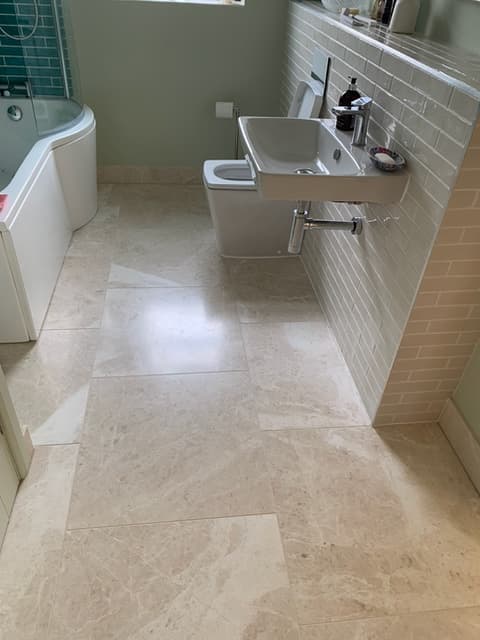 Our Portsmouth Marble Floor Restoration Services are a great choice!

Before you start your marble floor restoration, it is important to find the right cleaning company.. Here is what we can offer you:

☛ Floor technicians who are highly trained
☞ Using  professional detergents
☛ Complete customer support
☞ No obligation quote and free onsite visit
☛ Booking on short basis
Our teams are dedicated to ensuring that marble floors and surfaces are properly polished and cleaned. We offer a range of services to suit any budget. Please contact us at 02036 705 808, e-mail or via live chat. We are available for you online 24/7