Limestone Polishing Portsmouth: Revealing Radiance in Every Surface
Welcome to Floor Restoration Team, your trusted partner for exquisite limestone care services in Portsmouth. Our specialized limestone polishing service is designed to rejuvenate and enhance the natural beauty of your surfaces, bringing an air of elegance and sophistication to your spaces.
Why Limestone Polishing? The Power of Radiant Surfaces
Limestone surfaces possess a unique allure, characterized by their intricate textures and varying shades. However continuous usage, foot traffic and exposure to elements can gradually diminish their natural beauty. This is where limestone polishing steps in, offering a transformative process that rejuvenates and restores these surfaces to their original splendor.
The Artistry of Our Limestone Polishing Process
Our approach to limestone polishing is a symphony of expertise, precision, and attention to detail. We've honed our process to perfection, ensuring that every surface we touch undergoes a remarkable transformation. Below you can find example of our standard polishing process:
Assessment and Consultation: Crafting Your Vision – Our journey begins with a detailed assessment of your limestone surfaces and a consultation to understand your vision and goals. Every space is unique, and this stage allows us to tailor our approach to your specific requirements.
Surface Preparation: Laying the Foundation – Before the polishing begins, we ensure that your limestone surfaces are properly prepared. This may involve thorough cleaning, leveling uneven areas, and addressing minor imperfections.
Multi-Step Polishing: The Path to Brilliance – Our skilled technicians employ a multi-step polishing process that gradually uncovers the innate beauty of your limestone surfaces. We utilize state-of-the-art equipment and a range of polishing compounds to achieve the desired level of shine.
Edge and Detail Work: Unveiling Perfection – Limestone surfaces often feature intricate edges and details that demand special attention. Our experts meticulously polish these areas to ensure a seamless and consistent finish.
Final Inspection and Quality Assurance: Our Promise of Excellence – After the polishing process is complete, we conduct a comprehensive inspection to ensure that every aspect meets our rigorous standards. Your satisfaction is our priority, and we don't consider our work complete until we've achieved perfection.
Sealing: Protecting Beauty for the Future – To preserve the newfound radiance of your limestone surfaces, we offer optional sealing services. Our sealants create a protective barrier against stains, moisture, and the passage of time, ensuring your surfaces retain their allure for years to come.
Care Instructions and Recommendations: Empowering You – Before we conclude the project, we invite you to join us for a walkthrough of the newly polished surfaces. We provide you with care instructions and recommendations to help you maintain the stunning appearance of your limestone installations.
Unlock the potential of your limestone surfaces with the artistry of using our services. Our limestone polishing service in Portsmouth is a testament to our commitment to excellence, craftsmanship, and customer satisfaction.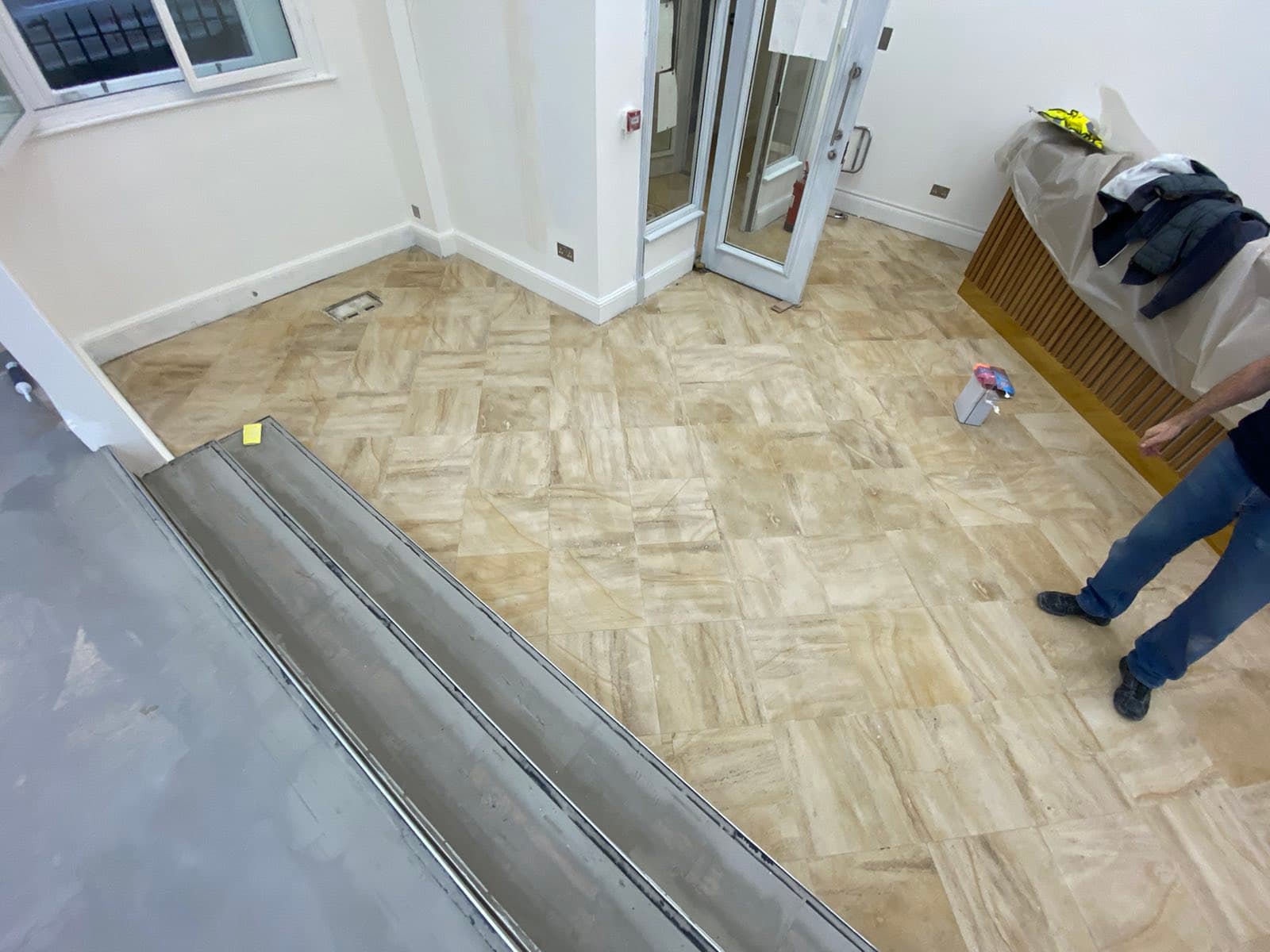 Benefits of Choosing Our Limestone Polishing Service in Portsmouth
When it comes to enhancing the elegance of your spaces through limestone polishing in Portsmouth. Our polishing company stands can be used as the premier choice. Our commitment to excellence and dedication to transforming your limestone surfaces into captivating focal points set us apart. Here are the remarkable benefits you can enjoy by choosing our service:
1. Expertise and Experience
With years of industry experience, our skilled technicians possess a deep understanding of limestone and its unique characteristics. We have honed our craft to perfection, ensuring that your limestone surfaces receive the utmost care and attention they deserve.
2. Customized Solutions
We recognize that every space is distinct, with its own requirements and aspirations. Our personalized approach means that your limestone polishing journey is tailored to your vision. We take the time to understand your goals and craft a solution that aligns perfectly with your expectations.
3. Transformative Results
Witness the breathtaking transformation of your limestone surfaces. Our meticulous polishing process brings out the innate beauty of your stone, turning dull and worn surfaces into captivating works of art that elevate the aesthetics of your spaces.
4. Preservation of Elegance
Limestone is renowned for its unique textures, colors, and patterns. Our polishing service not only restores its luster but also enhances these features, preserving the distinct elegance that limestone brings to your interiors.
5. Increased Property Value
The enhanced aesthetics and revitalized appeal of polished limestone can significantly increase the value of your property. Whether it's a residential space or a commercial establishment, our service adds a touch of sophistication that leaves a lasting impact on visitors and potential buyers.
6. Longevity and Durability
Our polishing process not only enhances the appearance of your limestone surfaces but also creates a protective layer that guards against daily wear and tear. This added layer of durability ensures that your surfaces maintain their beauty and integrity for years to come.
7. Ease of Maintenance
Smooth and polished limestone surfaces are not only visually stunning but also easy to clean and maintain. Say goodbye to labor-intensive cleaning routines, as our service equips your spaces with surfaces that remain dazzling with minimal effort.
8. Comprehensive Care
We're not just focused on immediate results but we're dedicated to the long-term well-being of your limestone surfaces. Our optional sealing service offers extra protection, ensuring your newly polished surfaces remain resilient against stains, moisture, and environmental factors.
9. Trusted Local Service
As a reputable name in Portsmouth, we understand the unique needs of the local community. Our service is backed by a history of satisfied clients who have experienced the magic of our limestone polishing firsthand.
10. Partner in Aesthetics
When you choose our floor polish services, you're not just hiring a service. You're partnering with experts who are genuinely passionate about enhancing the beauty of your spaces. We're committed to delivering results that exceed your expectations, creating environments that leave a lasting impression.
Experience these incredible benefits and more when you choose us for your limestone polishing needs in Portsmouth. Contact us today to schedule a consultation and embark on a journey toward spaces that exude timeless elegance and sophistication.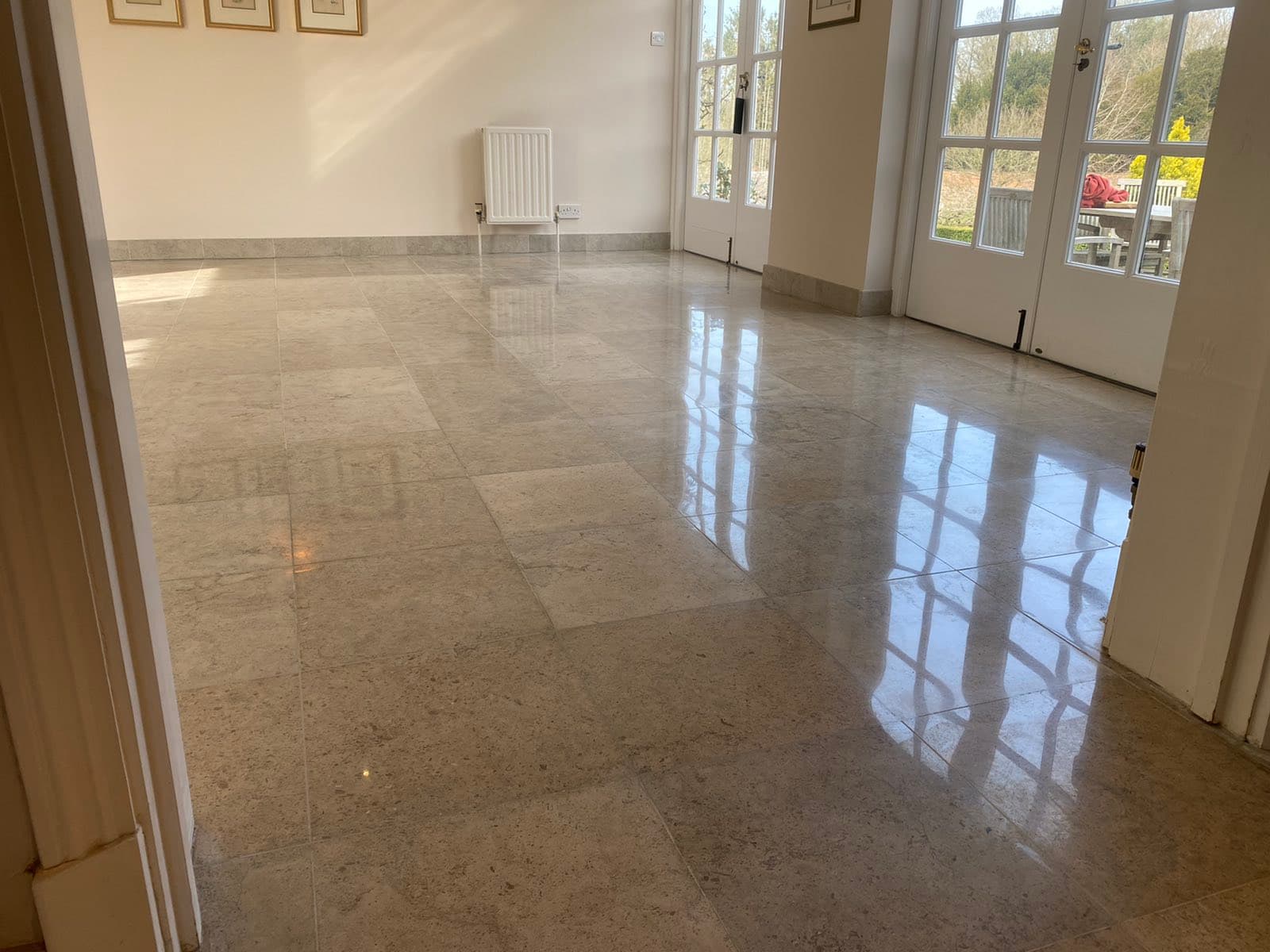 Additional Limestone Services:
We offer a range of additional limestone care services in Portsmouth that cater to the diverse needs of our clients. Our dedication to excellence and our passion for craftsmanship ensure that your limestone installations receive the comprehensive care they deserve.
Stain Removal and Restoration – Stubborn stains, whether from spills, mineral deposits, or organic matter, can detract from the beauty of your limestone surfaces. Our stain removal and restoration service employs specialized techniques to target and eliminate a wide range of stains, leaving your limestone looking fresh and vibrant.
Grout Replacement and Repair – Limestone surfaces are often accompanied by grout lines that contribute to their overall appeal. Over time, grout can become discolored or damaged. Our grout replacement and repair service revitalizes the appearance of your limestone surfaces, ensuring a seamless and cohesive look.
Exterior Limestone Care – Outdoor limestone surfaces face the elements and can accumulate dirt, moss, and weathering. Our exterior limestone care service rejuvenates patios, walkways, facades, and other outdoor installations, restoring their natural beauty and enhancing your property's curb appeal.
Fireplace and Hearth Revival – Limestone fireplaces and hearths provide warmth and charm to your interiors. Our fireplace and hearth revival service removes soot, residues, and stains, breathing new life into these focal points and creating a cozy ambiance in your home.
Maintenance Plans for Longevity – Limestone surfaces require consistent care to maintain their allure. Our customized maintenance plans provide regular cleaning, touch-up polishing, and proactive maintenance to ensure that your limestone surfaces retain their elegance and vibrancy over time.
Customized Limestone Care Solutions – Every project is unique, which is why we offer customized limestone care solutions. Whether you need a one-time restoration or an ongoing maintenance plan, our tailored services ensure that your limestone surfaces receive the specific care they need to shine.
Residential Limestone Polishing
Your home is a sanctuary of comfort and style, and every element within it contributes to the overall ambiance. We understand the significance of limestone surfaces in creating a stunning interior environment. Our residential limestone polishing service in Portsmouth is dedicated to revitalizing your home's charm by bringing out the natural beauty of your limestone installations.
The Allure of Limestone in Your Home – Limestone is a versatile and captivating natural stone that adds a touch of sophistication to any residential setting. Whether used in flooring, countertops, fireplaces, or other architectural features, limestone's unique patterns and colors create an ambiance that's both inviting and timeless. Over time, however, these surfaces can lose their luster due to daily use, foot traffic, and environmental factors.
Transformative Benefits of Residential Limestone Polishing:
Our residential limestone polishing service offers an array of benefits that can rejuvenate your home's interior:
Restored Luster and Shine
Enhanced Aesthetics
Improved Durability
Increased Property Value
Effortless Maintenance
Commercial Limestone Polishing: Elevate Your Business Environment
Your business space is a reflection of your brand's identity and values. At [Your Company Name], we understand the impact of polished limestone surfaces on creating an exceptional impression for clients, customers, and employees. Our commercial limestone polishing service in Portsmouth is tailored to meet the unique needs of businesses, delivering stunning aesthetics that leave a lasting mark.
The Significance of Limestone in Commercial Spaces – Limestone is more than just a building material; it's an embodiment of elegance and sophistication. Its versatility allows it to be used in a variety of commercial settings, from hotel lobbies and office entrances to restaurants and retail spaces. However, high foot traffic, spills, and general wear and tear can gradually dull the once-gleaming surfaces. This is where our commercial limestone polishing service comes into play.
Transformative Benefits of Commercial Limestone Polishing
Our service is designed to bring renewed vitality to your business environment:
Unveiled Professionalism
Enhanced Aesthetics
Longevity and Durability
Increased Brand Perception
Minimal Maintenance
Areas We Proudly Serve in Portsmouth
Our extensive service coverage spans across different neighborhoods and districts in Portsmouth. Here are just a few of the areas where we provide our top-notch limestone care services:
City Center (PO1) – The bustling heart of Portsmouth deserves the touch of elegance that our limestone care services bring. From commercial spaces to public buildings, we cater to all your limestone needs.
Southsea (PO4, PO5) – Enhance the charm of Southsea's residential and commercial spaces with our expert limestone care solutions, adding a touch of sophistication to its vibrant atmosphere.
Old Portsmouth (PO1) – Preserve the historical charm of Old Portsmouth's limestone structures with our specialized care that respects the significance of heritage.
Gunwharf Quays (PO1) – Revitalize the limestone surfaces of Gunwharf Quays' bustling retail and entertainment district, ensuring a polished and inviting atmosphere for visitors.
Fratton (PO1) – From homes to local establishments in Fratton, our limestone care services contribute to creating captivating spaces that leave a lasting impression.
Port Solent (PO6) – Keep the modern elegance of Port Solent's buildings intact with our expert care, maintaining the polished appearance that the area is known for.
Cosham (PO6, PO7) – Enhance the appeal of Cosham's commercial and residential spaces with the beauty and allure of perfectly polished limestone.
Hilsea (PO2) – From restaurants to offices in Hilsea, our limestone care services bring out the best in your spaces, enhancing their ambiance and aesthetics.
North End (PO2, PO6) – Incorporate the charm of polished limestone into North End's surroundings, creating a refined atmosphere in both residential and commercial spaces.
Our services are not limited to the above areas. We cover Guildford, Southampton and many other areas. Please contact and we will check whether we cover area.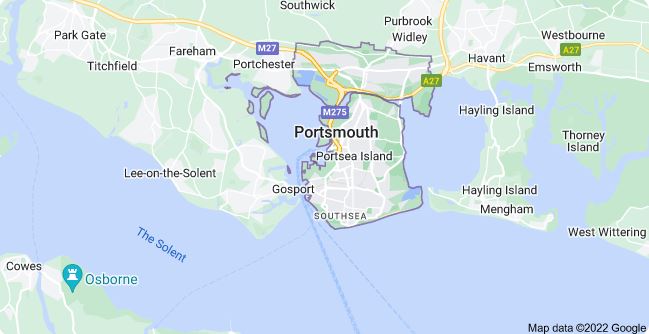 Contact for Limestone Care Services in Your Area
No matter where you're located in Portsmouth, [Your Company Name] is here to provide you with the finest limestone care services that meet your specific needs. Our team of experts is dedicated to transforming your limestone surfaces into stunning focal points that enhance the aesthetic and value of your property.
Contact us today to schedule a consultation and discover how we can make a difference in revitalizing and beautifying your limestone surfaces. We're excited to serve you and bring out the timeless elegance of your spaces.
Frequently Asked Questions:
Q: Can limestone grout be repaired, or does it need replacement?
A: In many cases, grout can be repaired using specialized techniques that address cracks and minor damage. However, if the grout is extensively damaged or discolored, replacement might be a more effective solution for restoring the overall appearance and integrity of your limestone surfaces.
Q: How do I maintain the polished look of my limestone surfaces after your service?
A: To maintain the polished appearance of your limestone surfaces, it's important to clean them regularly using a pH-neutral cleaner and a soft, damp cloth. Avoid using abrasive or acidic cleaners, as they can damage the finish. Additionally, placing rugs or mats in high-traffic areas can help prevent excessive wear.
Q: Will limestone polishing remove scratches and etching?
A: Limestone polishing can effectively reduce the appearance of minor scratches and etching, but the extent to which they can be removed depends on the depth and severity of the damage. Our technicians can assess your surfaces and provide recommendations based on their condition.
Q: Is limestone maintenance suitable for both residential and commercial properties?
A: Absolutely. Our limestone care services cater to both residential and commercial properties. Whether you're a homeowner looking to enhance your interiors or a business owner aiming to create an impressive environment, our services are tailored to your specific needs.
Q: How do I know if my limestone surfaces need restoration or just polishing?
A: If your limestone surfaces have lost their shine, exhibit noticeable wear, or show signs of staining and damage, they may benefit from both restoration and polishing. Our experts can assess the condition of your surfaces and recommend the appropriate combination of services to achieve the desired results.
If you have any further inquiries or need personalized assistance regarding our limestone polishing and care services, don't hesitate to reach out. We're here to provide you with the information and solutions you need to transform your limestone surfaces into stunning showcases of beauty and elegance.